This week is flying by, how is it already Thursday?? I don't like when the time goes so fast but especially this time of year. I want to be able to really enjoy this month so time
please
slow down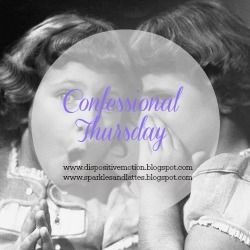 I confess....





I didn't really love the Gilmore Girls - A Year in the Life. After watching all 7 seasons and loving them, it kind of left me just blah about everything. And the ending! I'll only be happy if it comes back again and hopefully ties up all the loose ends




I literally cry at every cheesy Hallmark Christmas movie I watch. Having kids has turned me so emotional.




I feel like there's not enough time in the month to fit everything in I want to do - I don't want to be super busy but I also want to do all the things.




I know Christmas isn't just about presents, but this time of year makes me want everything, specifically this

red coat




My DVR is 97% full and most of it's Hallmark Christmas movies.The hubby keeps yelling at me to delete stuff but what he doesn't understand is when I delete 1 movie, 2 more are set to record (insert crying emjoi face!)


See you tomorrow!