I just recently discovered Darci and her blog The Good Life – go check it out now if you haven't, she is just great!
She does a link up every Friday, called 5 on Friday, and this Friday I thought I'd join the party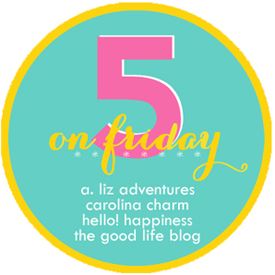 1. In less than 24 hours we are heading to South Haven, MI for our annual family vacation with my husbands side whole family – 10 adults and 4 kids, seriously so excited!! Although the forecast doesn't look in our favor, I am just so happy to be *getting away*
2. I finally got my butt moving on baby girls 1st birthday party! Her party is 8/31 and I booked the place months ago, (thankfully) but the other day it occurred to me that I should probably get invites out before I leave on vacation! At this point, I hadn't even thought of a theme and started searching Etsy and decided on a Carousel theme, it's only fitting since her party is in a room that has an actual carousel

J

Invites are done and I will spend the next couple weeks stalking Pinterest for more fun ideas!
3.

I just talked to my sister last night on Facetime and her baby belly is getting so big, ahh I love it!! I am so happy for her and her hubby, and also so ecstatic because not only are they having a baby soon, they are closing on their first house this month and also her hubby got a new job in his field! Woohoo! I

just love when things go good for the people I love!
4. I have already been thinking about the kids' costumes for this Halloween – this actually started last month, what can I say, I like to be prepared. I found these on Etsy and plan to DIY something very similar, OMG my kids are going to look adorbable!! I think the hubby and I will be Fred & Wilma too, just to join in the fun. It's funny how I use to not care for Halloween at all, now I love it, ahhh what kids do to you.
5.

This past week I started bathing the kids together – why did I not start this sooner?!

It is not only the cutest thing in the world, but also such a time saver! I am all for anything to give this mama a few extra minutes of play time with them!