This Friday came so quick! Probably because I was off work Monday and I'm also off today, woo hoo.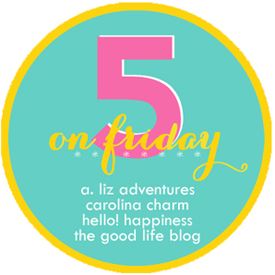 Let's get started on 5 on Friday, linking up over at
The Good Life
*One*
This Tuesday we went and met the little man's preschool teachers. I made sure to talk this up for weeks but no amount of talking could really prepare him. He was of course so nervous but warmed up to the room quickly, I wish I could say the same for the teachers. Every time the teachers went to talk to him he would cover his eyes with his hands. It was a super quick meet and greet so we'll see how he does on his first day next Tuesday!
* Two *
I am starting a cute chalkboard for my little man to hold up on his first day of school, I will be doing a post/tutorial on it soon :)
* Three *
I
repinned
this Fall Bucket List printable from Darci and think I love it much more than the one I pinned last week - I am getting SO excited for fall fun festivities!
* Four *
It was Ella Bella's actual birthday yesterday so we had our parents over for dinner and cake - I still can't believe she is 1!
I just LOVE this picture! Her Daddy loves her so much!
* Five *
My cousins wedding is tomorrow and I am looking forward to a fun night with the hubby, it's been a while since I've gotten really dressed up so that has me excited too!
I'm off to enjoy my 3 day weekend with my loves, I hope everyone enjoys theirs!